Bix Discography with Sound and Images





Power Point Presentations




This page was last updated on Mar 27, 2014

Effective Feb 1, 2013, http://ms.c.sunysb.edu/~/alhaim/ will be dicontinued. It will be replaced by.
http://ic.sunysb.edu/Faculty/alhaim/

This page automatically opens a midi file of In A Mist

BIX BEIDERBECKE RESOURCES
A BIXOGRAPHY




Bix in 1924 in Cincinnati, Ohio





This site is dedicated to the preservation and dissemination of information about Bix Beiderbecke, the musical genius from Davenport, Iowa.


Annotated lists of books, articles, video tapes, audio tapes, recordings, and related items are provided.
There are five satellite sites: two for images, one for WBIX, the virtual radio station devoted to Bix, one for Jim Grover's Bix Radio Program, and one for the Bix discography.
In addition, there is a forum where topics related to Bix are discussed.
Links to these sites are provided on the left-hand side column.
I hope that this site will become the most comprehensive primary reference work of available resources about Bix. I will need the help of my fellow Bixophiles to add to and correct the information that I provide.

The highlights of the year for Bixophiles are the Bix Beiderbecke Memorial Jazz Festival which takes place during July in Davenport, Iowa, and the Tribute to Bix Beiderbecke which takes place in Racine, Wisconsin on the weekend nearest March 10 (Bix's birthday). Jazz bands, visitors and Bixophiles from all over the world gather to celebrate Bix's musical genius. Perhaps, to a true Bix admirer, the most significant and poignant event of the Festival is the Saturday morning visit to Bix's grave site in Oakdale Cemetery. Musicians and fans gather to honor Bix's memory and play the music he made famous.

"Through his music, Bix is alive.
























2004
02/04 Added tapes of Willcox, Morehouse and Riskin from the Ryker project "What's left of Goldkette."
02/10 Added tapes of Rank, Challis, Farar, Ryker, Morgan, Bergman and Mertz from the Ryker project "What's left of
Goldkette."
02/11 Added tapes of Willcox, Venuti and Bartlett from the Ryker project "What's left of Goldkette."
02/23 Added a tape of an interview of Jimmy McPartland.
03/01 Added a copy of an article about the appearance of Bix at Amherst College on March 14, 1931.
03/02 Added images of Adrian Rollini and of Vic Berton with their respective instruments.
03/13 Added first installment of the Bix Discography with images and sound
03/15 Added transcript of Down Beat Article about Red Nichols talking about Bix's death
03/26 Added ads for Trumbauer's records from 1927 Melody Maker
03/26 Added audio tape of 1972 interview of bill Rank and Gene Prenderagst
04/16 Added scan of complete souvenir program of Whiteman's Fall 1928 tour
04/16 Added large image of signed photo of Paul Whiteman and His orchestra in February 1929
05/12 Added photos of Paul Whiteman and of Adrian Rollini/Sylvester Ahola/Tommy Fellini
05/12 Added interview of Irving Brodsky
06/16 Added stills from the newly restored 1927 film of the Goldkette orchestra.
06/28 Added images of Japanese Columbia label of At the Jazz Band Ball and of the Hillcrest Inn

07/05 "In A Myth" A New Series of Articles by Cornetist and Bix Expert Tom Pletcher
07/08 Added a page on Bix in the Davenport High School with a new photo of Bix


10/05 Added painting of Bix
10/28 Added information about the Bix Legacy Cruise
11/07 Added part IV of Tom Pletcher's series "In A Myth."
11/11 Added report of 2004 Bix Festival
11/20 Added images of 1600 Broadway

12/08 Added scans of two pages from Frank Trumbauer's diary
12/22 Added information about the CD "Bix ... He's Back" by the Queen City Jazz Band and about the CD "Lino Patruno
presents

A Tribute to Bix

."
12/23 Added information about the CD "2 Bix and not too Bix"

2005
02/13 Added photo of Bix at Tyler school
02/27 Added lists of individual tunes uploaded in connection with forum discussions group 1 group 2
06/21 Added report on premiere of Jean Goldkette film
06/28 Added a page about Bix at the Ertegun Jazz Hall of Fame
07/20 Added information about Aunt's Mary House.
08/07 Added report on Bix Vigil 2005
09/25 Added Mertz interview by Fitak and Mertz review of "Remembering Bix"
12/30 Added short piece on the Wolverines on radio

2006
11/17 Added account of Bix's parents trip to Germany in 1930.
12/29 Added account of Richard Sudhalter Benefit Concert.

2007
04/08 Added page about Maureen Englin. Updated recordings of "In A Mist." Updated Tributes to Bix recordings.
07/19 Added information about a Kismet recording of "At the Jazz Band Ball."

2008
08/03 Added page about Power Point Presentations


Brief Table of Contents


Recordings
The Original 78's
Analysis of Some Recordings: Is It Bix or Not ?
Complete Compilations of Bix's Recordings
Tributes to Bix
Miscellaneous Recordings Related to Bix
In A Mist
Label Credits on Original Parlophone Issues of Bix's Recordings
Chronological listing of Bix's recording sessions
Complete Bix Discography

For comments or questions contact ahaim@bixography.com


This page was launched on 02/01/99 by Albert Haim shown in front of Bix's house in June 1998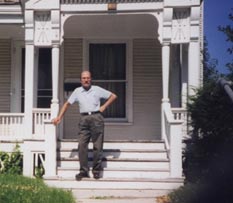 The help and advice of Philip Colston, Phil Evans, Frank Manera, Tom Pletcher, and Bill Utter are gratefully acknowledged. Helpful and important suggestions from Scott Alexander, John Howard, Phil Pospychala, and Trevor Rippingale have been incorporated and are enormously appreciated.Last, but not least, I want to express my special gratitude to Enrico Borsetti, Lino Patruno and Richard M. Sudhalter for their detailed reading of the entire site, their additions and corrections, and their very thoughtful comments.
The images of the record labels of Copenhagen (Gennett), Davenport Blues (Victor) and In A Mist (Okeh) are from the web site of the Wolverine Antique Music Society through the courtesy of Gus Frederick.
The midi file of In A Mist was created by the late John Roach and was downloaded from his collection of midi files.
All original text, image, and sound files in the Bixography and satellite web sites are protected by copyright laws. Material that is not original is included under Fair Use regulations. If you are the owner of material posted on this site without your authorization, contact the webmaster. Fair use of any material posted in the Bixography and satellite web sites is authorized, provided the user gives a specific reference to the Bixography.