Bix Beiderbecke

at the Ertegun Jazz Hall of Fame





Bix Beiderbekce was one of the first fourteen inductees to the Ertegun Jazz Hall of Fame. The Selection Committee consisted of Ahmet Ertegun, Wynton Marsalis, Dan Morgerstern, Albert Murray, Phil Schaap, Gunther Schuller and George Wein, and a 72-person international voting panel that included musicians, scholars and educators from 17 countries. The announcement of this honor from the Jazz at Lincoln Center website follows.



JAZZ AT LINCOLN CENTER TO INDUCT INAUGURAL CLASS OF MUSICIANS

INTO THE ERTEGUN JAZZ HALL OF FAME

International Voting Panel Selects 14 Jazz Legends to be Honored

September 30, 2004 (NEW YORK) – Jazz at Lincoln Center tonight will celebrate the dedication of the Ertegun Jazz Hall of Fame and the official induction of its inaugural class of members. Located within the new home of Jazz at Lincoln Center, Frederick P. Rose Hall, the Ertegun Jazz Hall of Fame, which interactively immerses visitors in the lives and artistry of jazz greats, was named by Jazz at Lincoln Center Board member Ahmet Ertegun and his wife, Mica, in honor of his late brother and Atlantic Records partner Nesuhi Ertegun.

The musicians inducted into the Ertegun Jazz Hall of Fame are: Louis Armstrong, Sidney Bechet, Bix Beiderbecke, John Coltrane, Miles Davis, Duke Ellington, Dizzy Gillespie, Coleman Hawkins, Billie Holiday, Thelonious Monk, Jelly Roll Morton, Charlie Parker, Art Tatum and Lester Young. Inductees' family members, friends and fellow artists will be on-hand to receive the honors on their behalf.

With a welcome by Ahmet Ertegun and introductions by Gunther Schuller, Victor Goines and Wynton Marsalis, inductees' awards will be presented by Wess "Warmdaddy" Anderson, James Carter, Benny Golson, Herbie Hancock, Hank Jones, Abbey Lincoln, Wynton Marsalis, James Moody, Nicholas Payton, Randy Sandke, Clark Terry, Frank Wess, Randy Weston, Dr. Michael White and Bob Wilber. Also performing will be the Lincoln Center Jazz Orchestra Rhythm Section: Eric Lewis (piano), Carlos Henriquez (bass), and Herlin Riley (drums); Madeleine Peyroux (vocals) and Ryan Kisor (trumpet). Generous support for the evening was provided by Movado.

<>"The greatest artists speak across epochs of the undying soul that distinguishes man from everything else in creation," said Wynton Marsalis, Artistic Director, Jazz at Lincoln Center.

"These 14 men and women are the embodiment of the very best in American culture.

Their creations will stand for all time as a testament to the richness of our way of living. We're proud to provide the world with a place to celebrate and reflect upon their great achievements."

<>A 72-person international voting panel, which includes musicians, scholars and educators from 17 countries, was charged with nominating and selecting the most definitive artists in the history of jazz for induction into the Ertegun Jazz Hall of Fame.

Criteria for nomination include excellence and significance of the artists' contributions to the development and perpetuation of jazz.


<>"The artists that we will honor as the first class of members into the Ertegun Jazz Hall of Fame gave something wonderful, passionate, inspiring and eternal to the world," said Ahmet Ertegun.

"My brother Nesuhi, in whose honor my wife and I named the Ertegun Jazz Hall of Fame, helped nurture some of these great artists and I think it is only fitting that we help create a space where people of all ages can come to learn about their contributions to the world of jazz.

The Ertegun Jazz Hall of Fame will provide a center where the lives and the artistry of the greatest jazz musicians will be celebrated, and where people will come to learn about jazz, something to which my brother devoted his life's work."

The Ertegun Jazz Hall of Fame, which was designed by the Rockwell Group and opens to the public on October 21, is a multi-media installation featuring a 14-foot video wall, interactive kiosks, touch-activated virtual plaques and the great sounds of jazz. The Ertegun Jazz Hall of Fame's physical design celebrates jazz by emphasizing flexibility and improvisation, and utilizes materials, such as cork, wood and brass, found in jazz instruments. The Ertegun Jazz Hall of Fame will be free and open to the public between the hours of 10am-4pm, Tuesday through Sunday. The space will also be open to ticket-holders in the evening.

"The Ertegun Jazz Hall of Fame is a very special part of our new home," said Derek E. Gordon, Executive Director, Jazz at Lincoln Center. "Whether you come to Frederick P. Rose Hall to see a jazz performance or a classical concert or a dance program, you will be exposed to the essence of jazz and inspired by the talented and celebrated men and women that we honor in the Ertegun Jazz Hall of Fame."

Every year, the international panel that Jazz at Lincoln Center has assembled will vote on a new class of honorees. Each new class of inductees will be honored at an annual ceremony at Frederick P. Rose Hall.

Nesuhi Ertegun (1917 - 1989)

The Ertegun Jazz Hall of Fame, named for Nesuhi Ertegun, is a gift of Mica and Ahmet Ertegun. Nesuhi Ertegun's passionate advocacy of jazz music and nurturing of jazz musicians made an indelible contribution to the awareness and appreciation of jazz throughout the world. The son of the former Turkish Ambassador to the United States, Nesuhi Ertegun was born in Istanbul and subsequently raised in Switzerland, Paris, London, and Washington, D.C. A passionate jazz and blues record collector, in 1944 Ertegun moved to Los Angeles, where he ran the Jazzman Record Shop and the Jazzman and Crescent labels. Among his first signings was legendary New Orleans trombonist Kid Ory. Ertegun became the editor of Record Changer magazine, made records for the Contemporary label, and taught jazz studies at UCLA – the first accredited course of its kind in the country. Today, the U.S. Library of Congress is home to the Nesuhi Ertegun Collection of Jelly Roll Morton Recordings.

In 1954, Nesuhi joined his brother Ahmet at Atlantic Records. Moving to New York, he developed an album department and was responsible for building the label's exceptional jazz roster – producing John Coltrane, Ornette Coleman, Ray Charles, Charles Mingus, the Modern Jazz Quartet, Herbie Mann, and many others. In 1971, Nesuhi's international expertise led to his establishment of WEA International (now known as Warner Music International). A committed and effective foe of record piracy worldwide, he also served as President of International Federation of Phonogram and Videogram Producers (I.F.P.I.). Among his many other interests, Nesuhi, along with his brother, founded the New York Cosmos soccer team. He was also a world-renowned collector of surrealist art.

<><>

The citation for Bix follows.

Bix Beiderbecke (1903-1931)

"Every note went through you like a shaft of light," a friend wrote after hearing Bix Beiderbecke play the cornet for the first time, "making you feel all clear and clean and open."

<>

Born and raised in Davenport, Iowa, Bix Beiderbecke fell in love with New Orleans music at the age of 15 and over the objections of his family determined to become a jazz musician. He first came to public attention with the Wolverine Orchestra and later became a featured "hot" soloist with the orchestras of Jean Goldkette and Paul Whiteman. But he made perhaps his most important contribution in 1927, when he and the C-melody saxophonist Frankie Trumbauer made a series of recordings, including "Singin' the Blues," that showed how jazz and the romantic ballad could be combined, how music could simultaneously be sweet and hot.

Beiderbecke's recording career lasted less than seven years; alcoholism and pneumonia killed him at 28. But the understated eloquence of his solos and the silvery brilliance of his tone -- "like a girl saying yes," the guitarist Eddie Condon remembered --brought a new kind of quiet lyricism to jazz and helped convince a generation of eager young white musicians that they, too, could make a contribution to the new American music.

# # # # # # # #





Each inductee was presented an award by an artist who then played in honor of the inductee. The award was accepted by a family member, estate, or family friend. Each award read:

Name of Inductee
Inaugural Inductee
Ertegun Jazz Hall of Fame
Jazz at Lincoln Center
September 30, 2004

Randy Sandke made the presentation of the award to Bix, and Hoagy Bix Carmichael received it. This is what Randy said.

We live in an impermanent world. Just in my lifetime I have witnessed great




corporations, great buildings, even nations and empires rise and fall. And




yet the music of the people we honor here tonight is as eternal and




indestructible as anything mankind has ever produced.





Almost everything written about Bix Beiderbecke includes the word ³legend²




in the first sentence. We must remember, though, that if it weren¹t for his




music he would have been forgotten long ago. Part of the tragedy of Bix¹s




short life was that he held his own talent in such low esteem. No one would




have been more surprised than him that now in the twenty-first century he




has fans all over the world, festivals are held in his honor, his entire




recorded output is widely available, and that he is being honored here




tonight.





His recording career lasted a scant six and a half years. During his




lifetime he was mentioned in print only a handful of times. When he died in




1931 at the age of twenty-eight the New York Times ran no obituary.





And yet no one has played like him before or since. He, along with Louis




Armstrong and Sidney Bechet were the first great soloists in jazz. All of




them showed how divergent and yet valid alternative approaches to the music




could be, and all within the first decade of recorded jazz.





Louis and Bix were friends from the time they met as teenagers, and they




continued to see each other throughout Bix¹s life. On numerous occasions




Louis expressed his admiration and respect for Bix. He referred to him as a




"born genius." His "pretty notes went all through me," Armstrong said. "You

can¹t find a musician in the whole world that doesn¹t love Bix¹s "In a




Mist."And in the fifties, Louis remembered an after hours jam session with




Bix at the Sunset Café in Chicago: "I¹ve never heard such good music since,"

he wrote.





Bix is credited with recording the first examples of a jazz ballad. The




first was "Singin' the Blues" from February of 1927, but I would like to




play his equally famous version of "I¹m Comin¹ Virginia," as recorded on May

13 of that year.



The award, received by Hoagy Bix Carmichael, was a Movado clock inbedded in lucite. [Movado was a sponsor of the event.] There was no certificate. Hoagy told me that it was a nice affair, but went on too long. I asked him, in a diplomatic manner, why was he chosen to receive the award. He told me because of the friendship of his dad with Bix, because his middle name was Bix, and because he knew one of the persons in charge. I expressed my surprise that the award was not received by a member of the Beiderbecke family. He said that the majority of the other 13 awards were, in fact, received by family members, but since there was no direct Bix descendent, he (Hoagy) was designated. Randy wrote, "Hoagy Bix made a speech about his fathers love for Bix and the profound musical debt he owed to Beiderbecke. Following this I played Bix's two choruses on "I'm Comin' Virginia" accompanied by Wynton Marsalis' rhythm section."



# # # # # # # #



On November 19, 2005, I posted the following in the Bixography forum.



The Ertegun Jazz Hall of Fame
by Albert Haim

On Tuesday, I spent some time at the Ertegun Jazz Hall of Fame. The new building where Jazz at Lincoln Center is located is in Columbus circle. If I remember correctly, the Hall of Fame is located on the 11th floor. The exhibit is rather small. It is housed in a long, narrow room with a bunch of regular TV screens, one very wide multi screen display and two lighted panels.




The names of the 14 inductees are on those panels, with room for many more. When you touch the name of the inductee, one of the small screens is activated and a still photo plus text are displayed on the screen for a couple of minutes. This is the photo




The text reads,

"Bix Beiderbecke (1903-1931)
"Every note went through you like a shaft of light," a friend wrote after hearing Bix Beiderbecke play the cornet for the first time, "making you feel all clear and clean and open."

Born and raised in Davenport, Iowa, Bix Beiderbecke fell in love with New Orleans music at the age of 15 and over the objections of his family determined to become a jazz musician. He first came to public attention with the Wolverine Orchestra and later became a featured "hot" soloist with the orchestras of Jean Goldkette and Paul Whiteman. But he made perhaps his most important contribution in 1927, when he and the C-melody saxophonist Frankie Trumbauer made a series of recordings, including "Singin" the Blues," that showed how jazz and the romantic ballad could be combined, how music could simultaneously be sweet and hot.

Beiderbecke"s recording career lasted less than seven years; alcoholism and pneumonia killed him at 28. But the understated eloquence of his solos and the silvery brilliance of his tone -- "like a girl saying yes," the guitarist Eddie Condon remembered --brought a new kind of quiet lyricism to jazz and helped convince a generation of eager young white musicians that they, too, could make a contribution to the new American music."

I already commented about the racist remark in the write-up, "…helped convince a generation of eager young white musicians that they, TOO [my caps], could make a contribution to the new American music." [My comments, from a post on Oct 18, 2005 were as follows, " This is lifted from one of the talking heads in Ken Burns PBS program on jazz (Margo Jefferson? I think so). I view this statement as racist and patronizing. The "too", in particular, kills me.]

The wide screen plays continuously a set of about two-minute videos, one on each musician. The sequence is arranged in alphabetical order. There is no narration. Only a recording is on the audio portion. The video portion has images and sentences, phrases pertinent to the musician. For Bix, the music is the Bix and Tram Feb 4, 1927 recording of "Singin' the Blues." There is a photo of the Wolverines (the high resolution photo in the Bixography), an image of the album "Jazz As It Should Be Played", a couple of individual photos of Bix. I tried to take photos of the screne. I am getting the film back this afternoon and will post anything useful. One of the sentences about Bix reads,

"Solidified jazz as an art form playable by both white and black musicians."

Does this strike you as a racist remark?

Another sentence, reads,

"He set the standards for lyrical balladry and helped bring the soloist to the forefront with his round silvery tone and thoughtful phrasing."

I like this one: it is an accurate and concise statement about the importance of Bix in jazz.

I must say I was quite disappointed by the exhibit. I saw the Bix exhibit at the River Music Experience in Davenport. Man, the Davenport exhibit is orders of magnitude better, more interactive, more material, better presentation. People talk about the sophisticated elite in the Big Apple and the peasants and dumb people in the red states. Let me tell you. Little Davenport "River Music Experiecne" left Big New York "Jazz Hall of Fame" in the dust.

One of my biggest criticisms of the exhibit-and one which I expressed loudly and in my best diplomatic manner
to a couple of staff members- was the fact that more than half the tunes (associated with the 2 to 2.5 minute mini presentation on each musician) were cut short. When the images ended the music ended!! My charming remark to the staff members was, "Cutting the music short is an abomination." This had been preceded by another ill-mannered comment, "Is this all there is to the exhibit?" I was surprised they did not call security and have me expelled. They accepted what I said and told me that they would pass the word to the people in charge. Even after my boorish eruption, these nice people continued talking to me. I asked them who presented the Bix award and who received it. They were not certain, but they think that Hoagy Bix Carmichael, Hoagy's son, received the award on behalf of Bix. I'll try to give him a call later. I asked Liz Beiderbecke-Hart if she had been invited (or Chris) and she did not even know about the induction of Bix into the Jazz Hall of Fame.

I found out who were the members of the International Voting Panel. I am not going to copy the whole list. Here are some names you will find interesting.

United States

George Avakian
Whitney Balliett
Stanley Crouch
Frank Driggs
Will Friedwald
Marty Grosz
Nat Hentoff
Dick Hyman
Orrin Keepnews
Marian McPartland
Richard Sudhalter
Dr. Michael White

For my European and British friends, here are some names

Denmark

Frank Buchmann-Moeller
Cim Meyer

France

Jean-Claude Abreu
Philippe Baudoin
Philipp Charles
Daniel Richard

Netherlands

Cees Schrama
Bert
Vuijsje

Sweden
Bo Scherman

United Kingdom

John Chilton
Brian Priestley
Chris Sheridan
Bob Wilber

With the induction of Bix in the Jazz Hall of Fame (only one of 14), I wonder if it is time to send another nomination of Bix for a USPS commemorative stamp? What are your thoughts, guys and gals? Please answer. My last post on the interlude (which I thought was very important) was left "twisting in the wind."


Albert

Posted on Nov 19, 2004, 9:17 AM






# # # # # # # #




Three Images from the Hall of Fame



1. The panel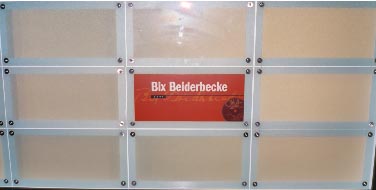 When the panel is touched, the image and text described in my previous post appear on the screen. Note the number of empty panels for future inductees.

2. Here are two of the images in the mini presentation about Bix.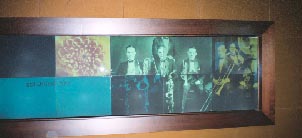 The text reads "solidified jazz".

The text reads "and helped bring the soloist to the forefront."
This page was uploaded on June 28, 2005.
I am grateful to Randy Sandke, Hoagy Bix Carmichael, and Mary Fiance Fuss, Director of Public Relations, Jazz at Lincoln Center,
for their invaluable help. Some of the images and text are from the Jazz at Lincoln Center website ( http://www.jazzatlincolncenter.org/) and are reproduced here with permission.

Return to the homepage of the Bixography website.