"Copyin' Bix:" Cornet Solos From Bix Beiderbecke's First Three Recording Sessions
<![if !supportEmptyParas]><![endif]>
By Albert Haim
<![if !supportEmptyParas]><![endif]>
<![if !supportEmptyParas]><![endif]>
Introduction.
It is well-known that, following the release of the Wolverine's records, Bix's genius as a cornetist and jazz innovator became widely known among musicians. Bix's reputation was further enhanced when his February 4, 1927 recording of Singin' the Blues became available. Chauncey Morehouse, the drummer in the 1926-1927 Jean Goldkette Victor Recording Orchestra stated,(see Bix: Mand and Legend by Richard Sudhalter and Philip Evans) "You couldn't go anywhere in New York without hearing some guy trying to play like Bix. They copied his tone, his attack, his figures. Some guys tried to take his stuff right off the records. Others just came and listened. It was amazing."Four yeas after the recording was made, Bix's legendary solo in Singin' the Blues was copied almost note for note by Rex Stewart in the two 1931 recordings of the tune by Fletcher Henderson's orchestra. According to Richard Sudhalter in Lost Chords, "Bill Challis arranging Singin' the Blues for Paul Whiteman's Orchestra in 1928, scored Trumbauer's chorus for the entire reed section. It got the same treatment on Fletcher Henderson's two performances of the piece: the reeds play Trumbauer together, before Rex Stewart renders Bix's equally famed thirty-two bars as a solo in the inflections and accents of his own style. It was the first time such homage had been delivered in so complete a fashion."
The seminal importance and impact of the Bix and Tram 1927 recording of "Singin' the Blues" are well documented. What is not widely known is that some of Bix's solos from his first three recording sessions with the Wolverine Orchestra were also widely copied. In this article, I will describe the circumstances surrounding this rather astonishing phenomenon.
<![if !supportEmptyParas]><![endif]>
Jazz Me Blues.
On February 18, 1924, at 3:30 A.M., eight musicians, one of them Leon Bix Beiderbecke, left Cincinnati, Ohio and drove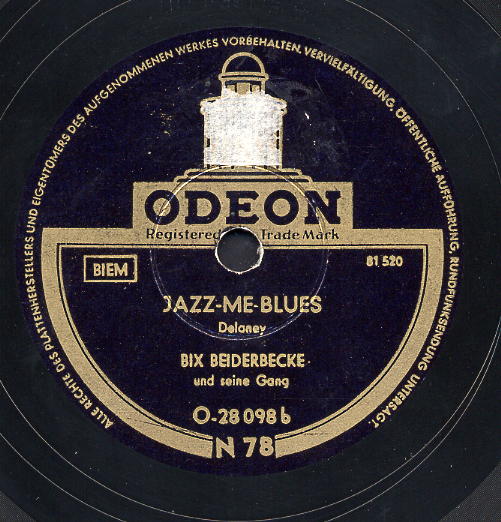 about 70 miles to Richmond, Indiana, the location of the Starr Piano Company's Gennett recording studio. The Gennett Record Division of the Starr Piano Company has been referred to as "The Cradle of Recorded Jazz." Indeed, it was. The New Orleans Rhythm Kings made their first recordings in 1922 and were followed in 1923 by Jelly Roll Morton and by King Oliver's Jazz Band with Louis Armstrong. The Wolverines began recording in February 1924. Pianist Dick Voynow and clarinetist Jimmy Hartwell had purchased a day's recording. It was not unusual, at that time, for musicians to pay to record their numbers. Recordings were generally viewed by musicians as a way of promoting the bands for their live appearances rather than as sources of income. There were exceptions, of course, notably Paul Whiteman's orchestra whose record sales numbered in the millions.
On that particular day, the Wolverines cut four sides, but only two were mastered and released, Fidgety Feet and Jazz Me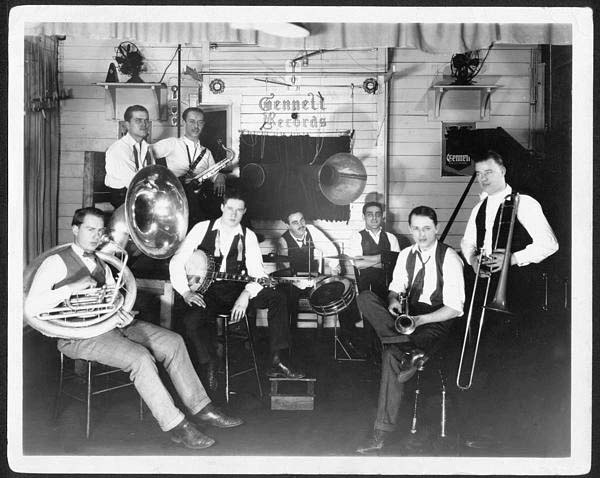 Blues. The latter includes a 20-bar chorus by twenty-year-old Bix. It is a masterful, geometric construction known as a "correlated chorus." First two measures are played; these are followed by two more measures, related to the first two; then, four measures, related to the first four, follow, etc. Bix makes use of triplets and rhythmic delays in his solo, characteristic features of a style he will develop further as he matured. In discussing this solo, Randy Sandke writes [see Bix Beiderbecke From a Musician's Perspective in Annual Review of Jazz Studies] "The overall impression we get from the solo, as in all of Bix at his best, is that every note is spontaneous, yet inevitable."
Four months later, on June 26, 1924, George Olsen and His Orchestra recorded You'll Never Get to Heaven With Those Eyes. In this record, Red Nichols plays a solo identical to the one played by Bix in the Wolverine's Jazz Me Blues. The note-for-note transcription was prepared by Eddie Kilfeather, pianist and arranger with Olsen from 1924 until about 1929.Kilfeather told Red that the solo he had given him for the Olsen recording of You'll Never Get to Heaven with Those Eyes was Bix's solo from Jazz Me Blues. Red was highly intrigued by Bix's solo. Early in July 1924, on his way to Michigan to join Dick Bowen and His Blue Streak Orchestra of New York, Red took a detour to see the Wolverines in Eastern Indiana. This was the first time that Red and Bix met. Their friendship lasted until Bix died, seven years later. As a matter of fact, two days before he died, Bix called Red Nichols and talked at length with Bobbi, Red's wife. The meeting between Red and Bix early in July 1924, a few days after Bix had recorded Tiger Rag with the Wolverines is important, as we will see later, to solve the puzzle as to how Bix's solo from Tiger Rag came to be copied on numerous recordings of the tune.
<![if !supportEmptyParas]><![endif]>
Copenhagen.
Brian Rust, the noted jazz discographer/historian, ranks Charlie Davis' composition Copenhagen among the top ten of his favorite jazz numbers. The first and last recordings of Copenhagen are from May 6, 1924 (The Wolverine Orchestra) and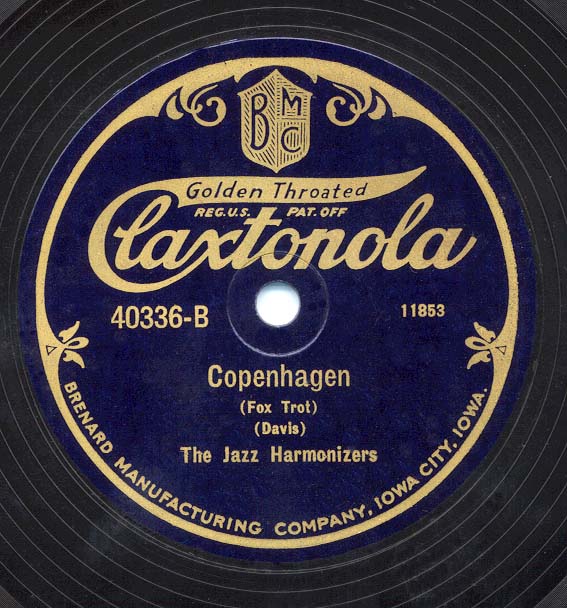 November 7, 2000 (Rob Fisher and The Coffee Club Orchestra in the album Shaking the Blues Away), respectively. In between these dates, hundreds of recordings of the number have been released. Some of the jazz musicians/bands who recorded Copenhagen are Louis Armstrong, Sidney Bechet, Bud Freeman, Fletcher Henderson, Earl Hines, Kid Ory, Artie Shaw, The Dorsey Brothers Orchestra, The Casa Loma Orchestra. The late 1949 hit Music! Music! Music! by Theresa Brewer has Copenhagen on the flipside.The song Copenhagen was inducted into the Jazz Hall of Fame.
Copenhagen was recorded by the Wolverine Orchestra on May 6, 1924. A few weeks earlier, on April 1, 1924, the band had had an audition to play as the house band at the Indianapolis Athletic Club. Unfortunately for the Wolverines, their audition was unsuccessful. They hung around Indianapolis for a while, waiting for a job they had arranged at Indiana University. On April 5, 1925, they attended the opening of Charlie Davis and His Orchestra at the Ohio Theatre. One of the numbers played by the band was Davis' own composition "Copenhagen." Davis told Phil Evans [see Bix, The Leon Beiderbecke Story by Philip Evans and Linda Evans] the reaction of the Wolverines, "The boys came in to catch our band, and when they heard us play "Copenhagen," the whispers could be heard clear out to the box office. Bix yelled, "What is that?" and Jimmy Hartwell added, "Hey, do it one more time." Charlie Davis, in his autobiography The Jazz State of Indiana, writes "Bix Beiderbecke said he was fascinated with the "ride" rhythm of the piece and wondered if his group might take it over to Richmond where they had a recording date at Genet [sic]. "Sure, take it along … do anything." The Wolverines played a few gigs in Indiana for the next few weeks, Indianapolis, Marion, and Bloomington. Finally, on May 6, 1924 they went to the Gennett Studios in Richmond, Indiana and recorded Copenhagen for posterity.
The recording was released on May 31, 1924. It was so successful, that the Melrose Bros. Music Company of Chicago, Illinois decided to publish the Wolverines' arrangement of the tune as a stock orchestration and commissioned one of their copyists, arranger/composer Joe Jordan, although Elmer Schoebel and Jelly Roll Morton [see Bruce Allen Hardy in an article for Storyville] have also been mentioned, to transcribe the Wolverine recording.
The front of the sheet music of the Melrose arrangement reads, "Phonograph Arrangement as played by Wolverine Orchestra." Moreover, the cover of the sheet music carries the following Editor's Note, a combination of advice and sales pitch. "This number is a typical Dixieland shimmie one step and no attempt has been made in the arrangement the avoid the dissonances which give this type of composition its character. It is advisable to give this number a careful rehearsal before playing it in public even though the orchestra is accustomed to playing blues. A study of the recording made by the 'Wolverine Orchestra" (Gennett Record No. 5453) will give a clear idea of the many effects obtainable that cannot be indicated in black and white. However, the arrangement is RED HOT as written. Play what you see and the horns will start smoking. Take it from us as publishers of the "Worlds Greatest Collection Of Blues-Stomps and Rags", COPENHAGEN is red hot and then some."
The arrangement included the choruses by Jimmy Hartwell and George Johnson, and a brief -only six bars- solo by Bix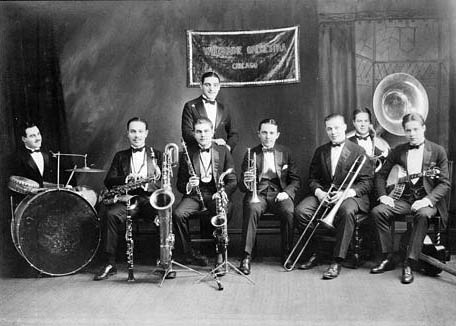 followed by a two-bar clarinet break and eight bars of the band playing with Bix dominating over the ensemble. The eight bars played by Bix represent a variation of what he had played in the six-bar solo. For the next year, the Melrose stock arrangement of Copenhagen, with variations to fit the recording band, was recorded frequently. The following are the recordings of Copenhagen listed in Brian Rust's Jazz Discography for the period May 1924-August 1925.
<![if !supportEmptyParas]><![endif]>
Wolverine Orchestra. 5/6/24
Benson Orchestra of Chicago. 9/8/24.
Sammy Stewart. 9/24
Al Turk. 10/24
Oriole Orchestra. 10/18/24
Varsity Eight. 10/22/24
New Orleans Jazz Band. 10/23/24
California Ramblers. 10/23/24
Fletcher Henderson. 10/30/24
Arkansas Travellers. 11/19/24
Savoy Orpheons. 1/21/25
Alex Hyde. 6/25
Julian Fuhs Follies Band. 6/25
<![if !supportEmptyParas]><![endif]>
The tune made it across the Atlantic Ocean as witnessed by one recording in England (Savoy Orpheons) and two recordings in Germany (Alex Hyde and Julian Fuhs). Most of the above recordings utilize the Melrose stock arrangement and include clarinetist Jimmy Hartwell's and saxophonist George Johnson's 12-bar solos. As far as Bix's solo is concerned, of the above recordings that I had access to, those by the Benson Orchestra of Chicago, Al Turk, the Oriole Orchestra, the Varsity Eight, the California Ramblers and the Savoy Orpheons include either note for note copies or cornet solos that follow quite closely Bix's solo. The recording by Fletcher Henderson includes a solo by Louis Armstrong completely different from Bix's. The Arkansas Travellers' version follows in general the pattern of the Melrose arrangement, but all solos are different from those in the Wolverines recording. In conclusion, the recording ofCopenhagen by the Wolverines contains the second example of a Bix solo copied -in this instance- by several cornet/trumpet players.
<![if !supportEmptyParas]><![endif]>
Tiger Rag.
Using Brian Rust's Jazz Discography as the source, it will be seen that Nick La Rocca's composition Tiger Rag was the second most recorded tune between 1898 and 1942: it was recorded 113 times compared to 135 times for "St. Louis Blues." The first recording of Tiger Rag dates from August 17, 1917 by the Original Dixieland Jazz Band. The ODJB recorded Tiger Rag again on March 25, 1918 for Victor (18472). This recording had a profound effect on 16-year old Bix. Charles "Burnie" Beiderbecke, Bix's brother, described Bix's reaction to Philip Evans. "When Bix heard these records ["Tiger Rag" and "Skeleton Jangle"] it was his first exposure to jazz. He loved them and played them constantly, studying each note with his legs crossed, his head almost in the bell, oblivious to all of us. It was then he borrowed a beat-up cornet from a neighbor … Bix taught himself to play the cornet by slowing down "Tiger Rag" playing it note for note with his ear in the bell."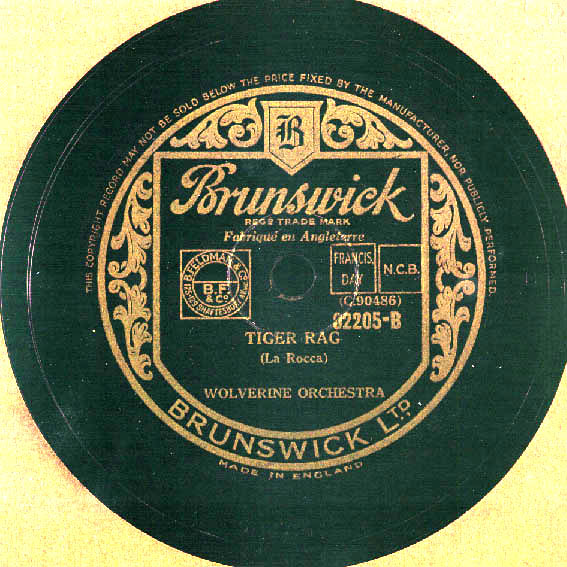 The Wolverine Orchestra with Bix recorded Tiger Rag on June 20, 1924, the third recording session of the Wolverines for the Richmond Gennett studios. On the same day, the Wolverine Orchestra recorded INeed Some Pettin and Royal Garden Blues. The latter two recordings were issued in the Gennett 20,000 series (20,062) reserved for "vanity" or "personal" records. Only test pressings of the third number cut on that day –Tiger Rag- were made. Members of the orchestra paid for the test pressings and received copies of them. It must be emphasized at this point that commercial recordings of Tiger Rag were not released until 1936.
Within three years of the Wolverine's recording of Tiger Rag, the following four recordings of the song -relevant to the theme of the present article- were released.
<![if !supportEmptyParas]><![endif]>
May 4, 1925. California Ramblers (under various pseudonyms depending on the record label: Five Birmingham Babies, Goldie's Syncopators, etc.). Red Nichols and Frank Cush on trumpet.
May 12, 1926. University Six. Chelsea Quealey on trumpet.
May 1926. Purple Pirates Orchestra. Unknown cornetist.
December 1927. Devine's Wisconsin Roof Orchestra. Dick Happe and Alec Alexander on trumpet.
<![if !supportEmptyParas]><![endif]>
What is remarkable about the above four recordings issued in the time period 1925-1927, long before the first commercial release of the Wolverines' Tiger Rag in 1936, is that they all feature a trumpet solo that is nearly a note for note copy of Bix's cornet solo in the Wolverine's recording of "Tiger Rag" Brad Kay had noted in 1999 the close similarity between Bix's solo and the solo in the Purple Pirates Orchestra recording. In an Internet forum (www.network54.com) Brad Kay wrote, "Bix's solo on this delayed release of "Tiger Rag" was copied almost note-for-note by the cornetist on a 1926 record of "Tiger Rag" by the Williams College (Massachusetts) "Purple Pirates" jazz band. This was a one-off issue for sale at the college. The mystery is: How did the cornet player get to know this solo? Was someone at Williams hip enough to have one of those precious Wolverines Gennett tests? Or was the solo transcribed from the test to a stock arrangement used by this band and others? Or what?!?" In his LP notes to the 1979 Sunbeam MFC-21, producer Alan Roberts also mentions the similarity of the Purple Pirates cornet solo to the Bix solo. In the same Internet forum, Frank van Nus noted recently that Red Nichols' and Chelsea Quealey's solos are very similar to each other and to Bix's solo. He writes, "Like Quealey's solo, the Nichols solo is identical to the Bix solo in the first 12 bars. Where Bix seems to shy just before the break, Nichols finishes the little riff Bix started (as does Quealey), and then produces a whole-tone break identical to the Quealey one. After the break, he follows the general direction of the Quealey solo. All in all, there are more similarities between Quealey and Nichols than between either of them and Bix. From this I conclude that Nichols and Quealey were reading from the same source - either hand-written or printed." Malcolm Walton in the same Internet forum and Richard Sudhalterin Lost Chords also noted the similarity between Quealey's and Bix's solos. Sudhalter writes, "How, then, had Quealey, in New York, heard this performance? It is conceivable that Beiderbecke or another of the Wolverines had a copy and played it for him - but Quealey's performance here betokens careful listening and imitation." The 1927 recording by Devine's Wisconsin Roof Orchestra presents additional features of interest. Tracks 14 and 15 of the Jazz Oracle Bill Carlsen 1926-1928 CD (# BDW 8014) are takes 1 and 2, respectively, of Tiger Rag, recorded in December 1927 by Devine's Wisconsin Roof Orchestra. (18]. There is a trumpet solo in takes 1 and 2. The two solos are different from each other, although the construction and lengths are the same. The solo in take 1 could be described as a variation on Bix's solo in the Wolverines' version of "Tiger Rag." On the other hand, the solo in take 2 is clearly a copy of Bix's solo, not quite note for note, but extremely close. We have what I view as a remarkable event. A trumpeter emulates [not the style, but the improvisation] Bix, not only by copying one of his solos, but also by providing an alternate take with a variation on Bix's solo! Just like we are told repeatedly that Bix did not replicate his solos in different takes, the trumpeter in Devine's Wisconsin Roof Orchestra comes up with two
different solos in the two takes of Tiger Rag.
The similarity of the cornet solos in recordings of Tiger Rag issued shortly after that of the Wolverines -in view of the fact that the Wolverines recording was not issued commercially until 1936- presents indeed a mystery. It is possible, as Sudhalter suggests that one of the trumpet players had a copy of a test pressing of the Wolverines Tiger Rag. But it is unlikely that the four trumpeters had copies of test pressings at their disposal. I would like to offer the following hypothesis to explain this rather unusual puzzle.
As I indicated during the discussion of Jazz Me Blues, Bix and Red Nichols met early in July 1924, about two weeks after the Wolverines had recorded Tiger Rag. I suggest that, at that time, Bix gave Red a copy of the test pressing of the recently recorded Wolverines' Tiger Rag. This proposal is quite reasonable. Bix had a number of test pressings and he was willing to share one of them with a kindred soul. Fast forward to May 1925, Red is recording Tiger Rag with the California Ramblers. He remembers the test pressing of the Wolverines recording and listens to it. Red likes what he hears and copies Bix's solo. Now the solo, as part of the arrangement for Tiger Rag, is in the California Ramblers book. Comes May 1926, the University Six (a small contingent of California Ramblers musicians) record Tiger Rag and Chelsea Quealey uses again Bix's solo. Thus, we have a credible explanation for Red and Chelsea Quealey playing solos in their versions of "Tiger Rag" identical to each other and very similar to the one created by Bix in 1924. The Purple Pirates Orchestra could not have copied their solo from the University Six recording: the two recordings were made at about the same time. It is likely that the cornetistcopied the solo from the California Ramblers recording. As far as Devine's Wisconsin Roof Orchestra, the trumpeter could have copied either the California Ramblers or the University Six recording, but ultimately, the original model was Bix's solo.
The count of copies of Bix's solo in Tiger Rag is now up to four: California Ramblers, University Six, Purple Pirates, and Devine's Wisconsin Roof Orchestra. Not bad for a record that was not released commercially and for which only test pressings were available in the 1920s!
In conclusion, I find it remarkable that Bix's solos from tunes in his first three recording sessions –JazzMe Blues, Copenhagen, and Tiger Rag- were copied almost note for note by other trumpeters shortly after Bix's original recordings. I believe such copies represent a testimony to Bix's genius for composition and improvisation and to the admiration that fellow musicians held for Bix.
Acknowledgments. I am grateful to all the contributors to the Bixography Forum http://www.network54.com/Hide/Forum/27140 who added useful comments to the discussion of the issues covered in the present article, Bill Dean-Myatt, Rick Kennedy, Norman Field, Malcolm Walton, and the late Frank Powers. Correspondence with Bill Haesler is gratefully acknowledged. Michael Kieffer kindly sent me a copy of the Purple Pirates Orchestra version of Tiger Rag. I am grateful to Jean-Pierre Lion for a copy of the Storyville article. I am particularly indebted to Brad Kay and Frank van Nus: without their critical, insightful contributions, the present article could not have been written. Brad and Frank read an earlier draft of the article. They made several important suggestions that were incorporated in the final version of the manuscript.
<![if !supportEmptyParas]><![endif]>
Recommended Reading
(1) Richard M. Sudhalter and Philip R. Evans, Bix,Man And Legend, Arlington
House Publishers, New Rochelle, N.Y.
(2) Richard M. Sudhalter, Lost Chords, White Musicians and Their Contributions
to Jazz, 1915-1945, Oxford University Press, New York, 1999,p. 451.
(3) Randy Sandke, Bix Beiderbecke From a Musician's Perspective in
Annual Review of Jazz Studies, 9, 1997-98, edited by Edward Berger, David
Cayer, Henry Martin, Dan Morgenstern, Institute of Jazz Studies, Rutgers-
The State University of New Jersey and The Scarecrow Press, Inc., Lanham,
Maryland and London, 2000, pages 165-260.
(4) Philip R. and Linda K. Evans, Bix: The Bix Beiderbecke Story, PrelikePress,
Bakersfield, California, 1998.
(5) Charlie Davis, That Band From Indiana, Mathom Publishing Company,
Oswego, NY, 1982.
(6) Brian Rust, Jazz Records 1897-1942, 4th edition, Arlington House, New
Rochelle, New York, 1978.
[7] Bruce Allen Hardy, Charlie Davis, Copenhagen and the Musical Culture of
the '20s, Storyville,
<![if !supportEmptyParas]><![endif]>
BOX
At least two original, single-sided, white-label tests survived from 1924. They were used in the first commercial issues of Tiger Rag. In1936, Tiger Rag was released as Hot Record Society #24 and as English Brunswick 02205. The test pressing used was cracked. However, even cracked, the record was deemed to be of sufficient significance that it was used to produce the Hot Record Society and English Brunswick pressings. A second commercial issue of Tiger Rag was produced in 1954: a 10" Riverside album, RLP 1050, "BIX BEIDERBECKE and the Wolverines," VOLUME 2, Jazz Archives Series. An uncracked test pressingwas used to produce this LP. The liners for the album provide no information as to the source of the pressing. Conflicting accounts are given in two biographies ofBix. According to Sudhalter and Evans in Bix: Man and Legend,"The uncracked test used for the LP issues comes from the collection of J. Robert Mantler." According toEvans and Evans in Bix: The Leon Beiderbecke Story, "Edwin "Squirrel" Ashcraft (10/7/60): The second copy was obtained from Mrs. Beiderbecke by John Steiner, some years later." I had been puzzled by this discrepancy ever since I read the two books. Therefore, on July 20, 1999, I called John Steiner and asked him specifically if Ashcraft's account about the uncracked test pressing was correct. John Steiner told me categorically that he never had a copy of the Wolverine's Tiger Rag test pressing and he did not recall ever getting a record from Mrs.Beiderbecke. In view of John Steiner's statement and the fact that J. Robert Mantler had an enormous collection of Bix records, I accept Sudhalter and Evans account that the uncracked test pressing used in he production of RLP 1050 came from Mr. Mantler.