The 90th Anniversary Celebration of
Paul Whiteman's Historic Aeolian Hall
Concert of February 12, 1924

Vince Giordano and the Nighthawks
with Pianists Ted Rosenthal and Jeb Patton
Reconstructed and Conducted by Maurice Peress
The Town Hall, New York, NY
February 12, 2014

A Review by Albert Haim
Introduction

On Feb 12, 1924, a snowy Tuesday in New York City, Paul Whiteman had lunch with Jules Glaenzer, Zez Confrey and George Gershwin. Confrey and Gershwin were pianists/composers. Jules Glaenzer was a Cartier (jewelry) executive, an amateur pianist who hosted dinner, cocktail and opening night parties in his fashionable East 65th Street duplex.
Following the lunch, Whiteman, Gerswhin and Confrey went over to 29-33 West 42nd Street the location of the Aeolian building which housed the 1100-seat Aeolian Hall.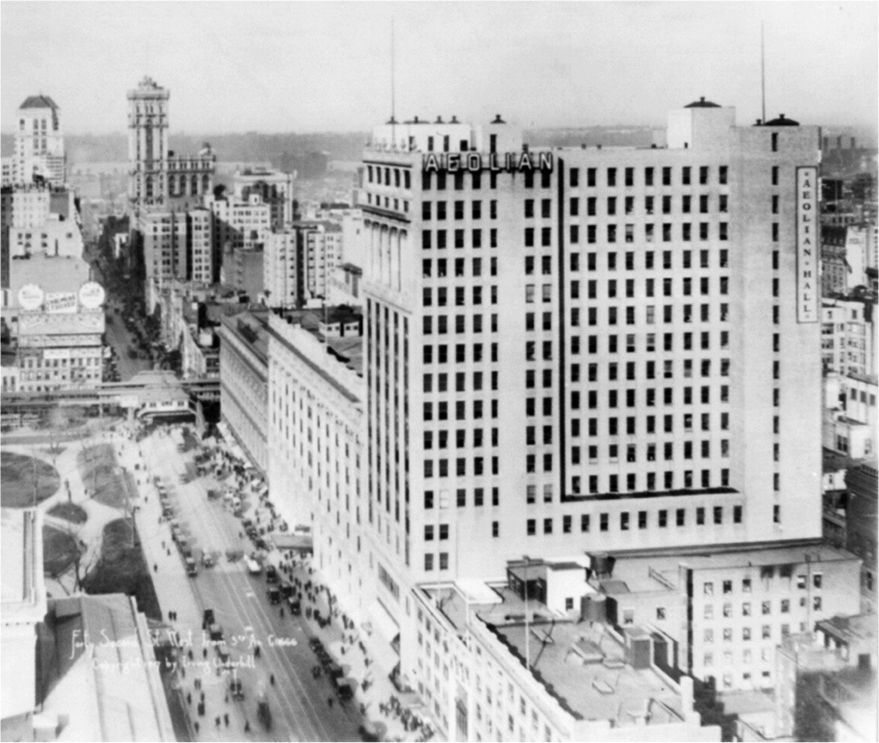 At 3 pm, Paul Whiteman's orchestra presented a concert billed as "An Experiment in Modern American Music." Paul Whiteman was known as the King of Jazz and the concert included several numbers that were viewed, at the time, as jazz. However, this was not the first time that jazz was played in Aeolian Hall. A little over three months earlier, in the same venue, Canadian mezzo-soprano Eva Gauthier performed two jazzy numbers –Gershwin's Swanee and Berlin's Alexander's Ragtime Band– in a recital of otherwise concert works. For the non-classical numbers, Ms. Gauthier was accompanied by George Gershwin on piano.
Whiteman's experiment –an unconventional and novel combination of jazz, popular music, and concert music– was a smashing success: an enthusiastic audience brought back Whiteman's orchestra for five curtain calls. The concert was one of the most important musical events of the 1920s. The highlight of the concert was the premiere of Gershwin's Rhapsody in Blue, the quintessential example of symphonic jazz.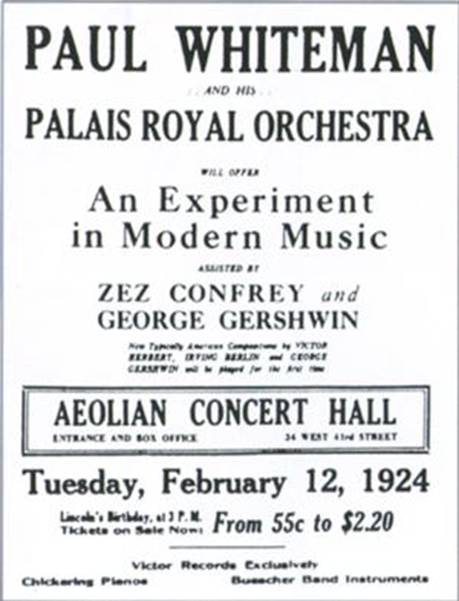 The experiment was daring: bringing jazz into the concert hall at a time when jazz was viewed as a lower form of entertainment. Some critics had rather negative comments about the Rhapsody in Blue, others were very enthusiastic. As an overall summary review, it is worth quoting the headline of critic Abel Green's review in the February 14, 1924 issue of Variety: "PAUL WHITEMAN'S BRILLIANT RECITAL SAYS JAZZ CRAZE WILL NEVER DIE." Indeed, prophetic.
The Aeolian Hall Whiteman concert consisted of two distinct parts. The first half was a combination of jazz, dance band, and novelty numbers. The second half included mostly semi-classical compositions.
Move the clock ahead precisely 90 years. On February 12, 2014, Vince Giordano, Maurice Peress, and an augmented version of the Nighthawks orchestra performed a recreation of Whiteman's Experiment in Town Hall, in New York City, a venue located on the same block of New York City as the old Aeolian Hall.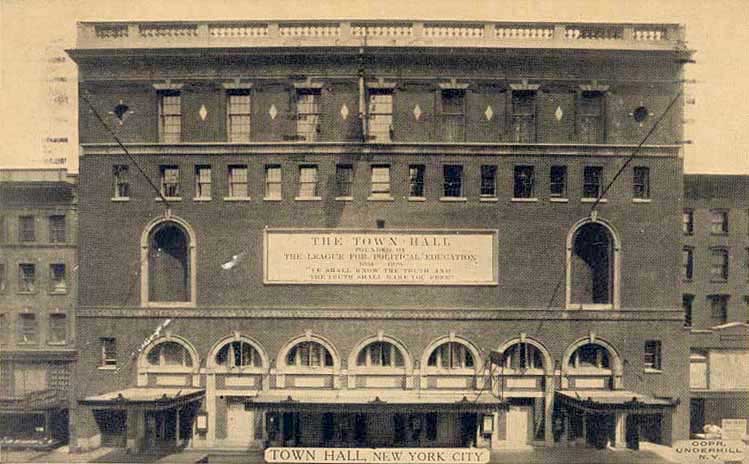 Vince Giordano is a musician, historian, collector, the foremost figure in the preservation of 1920s and 1930s popular music –dance music and jazz. Maurice Peress is an orchestra conductor, educator and author. Several of the original orchestrations played by Whiteman in 1924 were available and were used in the 2014 concert; some were transcribed from Whiteman's recordings; and a few numbers used vintage stock arrangements.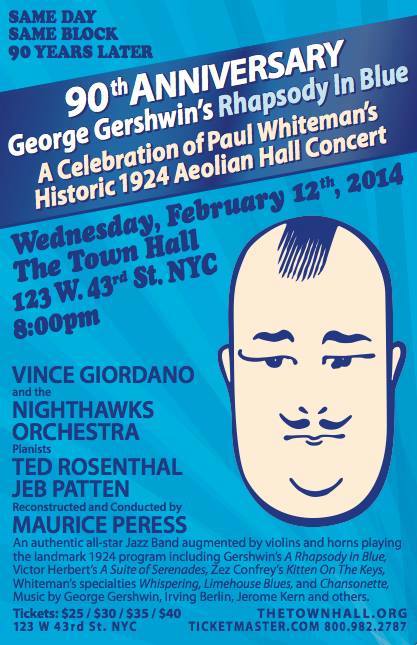 The Program

As the lights in the theatre dimmed, Vince Giordano approached the microphone and provided an introduction to the concert.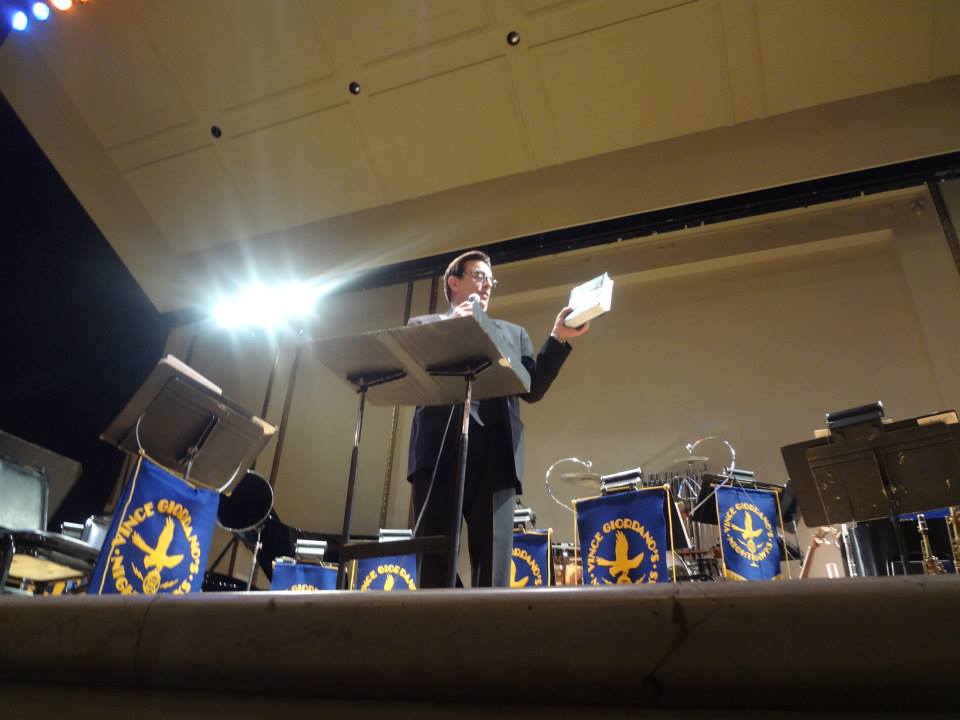 He described briefly the nature of the concert and mentioned the names of several individuals present in the audience: Whiteman's relatives, Joe Franklin, Liza Minelli, Rich Conaty. Then Maurice Peress came out and the concert began. Mr. Peress acted as a combination conductor and master of ceremonies, explaining the numbers to be played and providing historical context.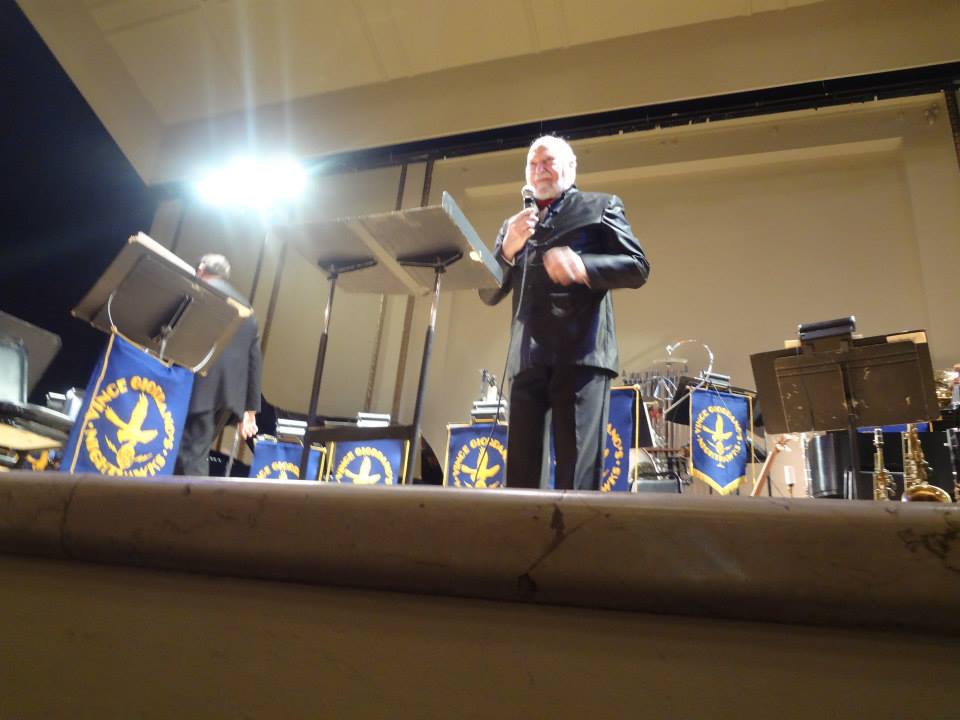 - True Form of Jazz
One Hundred Years Ago – Livery Stable Blues Nick LaRocca
With Modern Embellishments – Mamma Loves Papa Cliff Friend, Abel Baer
The contrast between the primordial form of jazz by the ODJB and the sophisticated style of Whiteman's orchestra was faithfully brought out, the first number played by a quintet, the second by the full Giordano's Nighthawks. A notable feature was the trombone solo in a rousing performance. It is noteworthy that the original Aeolian Hall Program specified "Ten Years Ago" not "One Hundred." Livery Stable Blues was recorded by the ODJB on February 26, 1917.
- Comedy Selections
Yes! We Have No Bananas Frank Silver, Eric Cohn
So This Is Venice Harry Warren, Grant Clarke, Edgar Leslie
A comedy interlude with a popular 1920s song and a recreation of Ross Gorman's virtuoso performance in an adaptation of Carnival of Venice. A highly entertaining episode.
- Contrast – Legitimate Scoring versus Jazzing
Whispering John and Malvin Shonberger
Takes 1 and 2 of Whispering were waxed on August 9, 1920, the first recording session of Paul Whiteman and His Orchestra. These were rejected. A second attempt was made on Aug 19, 1920. Four takes were cut, all destroyed. Finally, on Aug 23, 1920, four additional takes were recorded, and take 8 was mastered. It was released on Victor 18690 with Japanese Sandman on the flipside. This was one of Whiteman's most popular records with about 2 million records sold by 1921. It became a feature of the orchestra and Whiteman included a performance in of the tune in the 1924 concert. First, the tune was played "straight" and then in a "hot" rendition. Vince Giordano and the Nighthawks recreated the number with verve and enthusiasm, including an execution of the melody on slide whistle by Andy Stein. Very effective and the audience loved it.
- Recent Compositions with Modern Score
Limehouse Blues Phillip Braham, Douglas Furber
Linger Awhile Vincent Rose, Harry Owens
Raggedy Ann Jerome Kern, Anne Caldwell
Limehouse Blues is a "jazz standard." Tom Lord's discography lists 741 recordings of the tune. It was recorded twice in 1922 in England, first by the Queen's Dance Orchestra and then by Jack Hylton's Jazz Band. The first recording in the US was by Paul Whiteman' orchestra on January 22, 1924, about three weeks before the Experiment in Modern Music. The arrangement played by Vince Giordano and the Nighthawks was by Ferde Grofe and included a well-received novelty type trombone solo. The original Whiteman concert had I Love You after Limehouse Blues. In the recreation concert, Linger Awhile was played instead, a vehicle for Ken Salvo's virtuoso banjo solo. A lovely rendition of Raggedy Ann followed.
- Piano Music by Zez Confrey
Kitten on the Keys Zez Confrey
Three Little Oddities Zez Confrey
Romanza
Impromptu
Novelette
Nickel In the Slot (with orchestra) Zez Confrey
Pianist Jeb Patton did an excellent job on the knuckle busters and played the exquisite Three Oddities with appropriate delicacy.
- Irving Berlin Medley
Orange Blossoms In California Irving Berlin
A Pretty Girl Is Like A Melody Irving Berlin
Alexander's Ragtime Band Irving Berlin
A good set of tunes to end the first part of the recital. Vintage Paul Whiteman music played faithfully by Vince Giordano and the Nighthawks.
Flavoring With Borrowed Themes (Volga Boatman)
Russian Love Ferde Grofe, Peter De Rose, Jesse Winne
Ferde Grofe's fox-trot adaptation of the traditional Russian song. Typical Whiteman number impeccably reproduced by Vince Giordano and the Nighthawks.
- Adaptation of Standard Selections to Dance Rhythm
Pale Moon Frederic Knight Logan, Jesse Glick
To A Wild Rose Edward McDowell
Chansonette Rudolf Friml
Again, Paul Whiteman's fare served with incomparable accuracy and authenticity by Vince Giordano and the Nighthawks.
- A Suite of Serenades Victor Herbert
Spanish
Chinese
Cuban
Oriental
Victor Herbert's suite of four serenades was composed especially for the recital. The friendship between Victor Herbert and Paul Whiteman went back to 1915. In early 1915, Whiteman was hired as one of eighty musicians of the (San Francisco) Panama-Pacific International Exposition Orchestra. The orchestra played several symphony concerts during the winter, spring, and summer of 1915. One of the high points of the concert season took place in June 1915 when the highly respected French composer Camille Saint- Saens was guest director of the Exposition orchestra. As the Exposition was coming to a close, American composer Victor Herbert directed the orchestra in a series of pop concerts. Herbert and Whiteman became friends. A little over eight years later, on January 20, 1924, Herbert completed A Suite of Serenades and was present during the Aeolian recital where the composition was premiered.
The Suite included exotic sounds from foreign lands, an appropriate inclusion in an Experiment in American Music, America being a melting pot of races and nationalities.
Vince Giordano and the Nighthawks demonstrated their versatility and impeccable musicianship by playing these symphonic pieces with gusto and manifesting their delight at the challenge.
A Rhapsody in Blue George Gershwin
For piano and jazz band.
George Gershwin's best known serious composition, Rhapsody in Blue represents a milestone in the history of American music. It was arranged for Whiteman's orchestra by Ferde Grofe. The premiere on February 12, 1924 at Aeolian Hall was received with high praise by some critics, and harsh criticism by others. Olin Downes wrote in the February 13, 1924 issue of the New York Times: "This composition shows extraordinary talent, as it also shows a young composer with aims that go far beyond those of his ilk … There was tumultuous applause for Mr. Gershwin's composition. There was realization of the irresistible vitality and genuineness of much of the music heard on this occasion." In contrast, Lawrence Gilman wrote in the New York Tribune of February 13, 1924: "How trite, feeble and conventional the tunes are; how sentimental and vapid the harmonic treatment, under its disguise of fussy and futile counterpoint! ... Weep over the lifelessness of the melody and harmony, so derivative, so stale, so inexpressive!" From the vantage point of 90 years after the premiere, Rhapsody in Blue is an extraordinary composition, a masterpiece, an amalgamation of jazz and concert music, a entirely new and unique type of music, the quintessence of what the United States of America brought to the world's civilization.
The Rhapsody was performed by an augmented version of Vince Giordano and the Nighthawks with Ted Rosenthal on piano and Maurice Peress conducting. There are several recordings of the Rhapsody, but what the audience heard on February 12, 2014 is the definitive version. Later arrangements are played by a full symphonic orchestra and miss by a mile the jazz flavor of the original Grofe arrangement. To retain its original zest and sensitivity, Rhapsody in Blue must be played by talented jazz musicians, not classically trained instrumentalists. And that is what Vince, Maurice and the Nighthawks served the audience: an expert jazz interpretation of a "fusion" work destined to be played in the concert hall. The audience applauded effusively and repeatedly.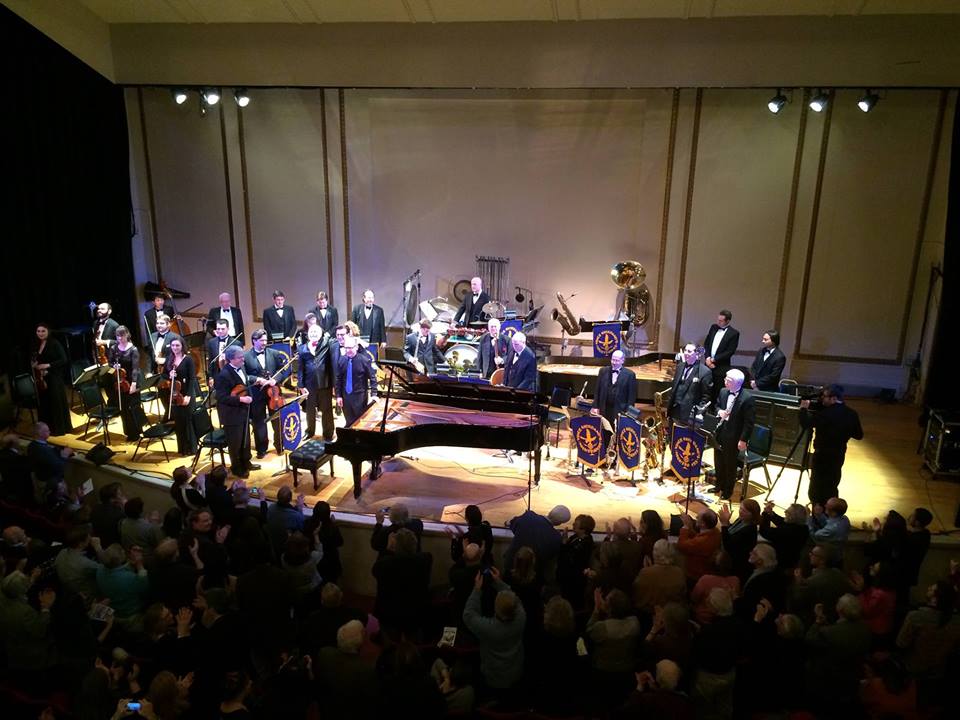 Coda


I have attended many live jazz concerts and recitals. One is indelibly carved in my memory: the recreation by Vince Giordano's Nighthawks and Josh Duffee's orchestra of the 1926 Jean Goldkette/Fletcher Henderson Battle of the Bands. The Town Hall concert of February 12, 2014 is another experience I will never forget, a memorable event, a night to remember. My profound gratitude is extended to all the people who made the concert possible, in particular Vince Giordano and Maurice Peress. If I closed my eyes during the concert, I had the distinct feeling that I was back in 1924 listening to the formidable Paul Whiteman orchestra.


Appendix


Images courtesy of Vince Giordano's Facebook page.


The musicians who made the concert possible.

Maurice Peress - Conductor


Andy Stein - Violin, Slide Whistle, Concert Master
Michael Ponella - Trumpet I
Jon-Erik Kellso - Trumpet II
Jim Fryer - Trombone I
Allen Raph - Trombone II, Euphonium
Dan Block - Alto Sax, Clarinet, Soprano Sax, Piccolo
Mark Lopman - Tenor Sax, Clarinet, Soprano Sax, Sopranino Sax, Flute
Dan Levinson - Alto Sax, Soprano Sax, Baritone Sax
Andrew Shreeves - Oboe, English Horn, Heckel Phone, Bass Clarinet
Ken Salvo - Plectrum Banjo
Frank Vignola - Tenor Banjo
Peter Yarin - Piano, Celeste, Accordion
Vince Giordano - Tuba, Bass Sax, String Bass
Paul Wells - Percussion


John Weber - Violin
Sergei Prokofiev - Violin
Monica Martin - Violin
Katherine Lawlor - Violin
Erica Gailing - Violin
Matt Kasper - Violin
Stephan Pillare - Violin
Marge Callahan - Horn I
Barbara Reineke - Horn II
Aomori Tamoyo - String Bass


Producers: Vince Giordano and Maurice Peress