Addenda to Rich Johnson's Book
From time to time I will bring up material that Rich was working on, but did not have a chance to finish. All material not added by me comes from Rich's unpublished notes or from material submitted for publ;ication that did not get in the book.

A Bix Cornet? "Dude" Skiles (Uploaded Aug 8, 2009)

In p. 574 of his book, Rich reprints a series of articles related to Bix's cornets. One of them is a piece from Feb 3, 1955, where there is an account of Dude Skiles receiving the gift of a cornet that belonged to Bix.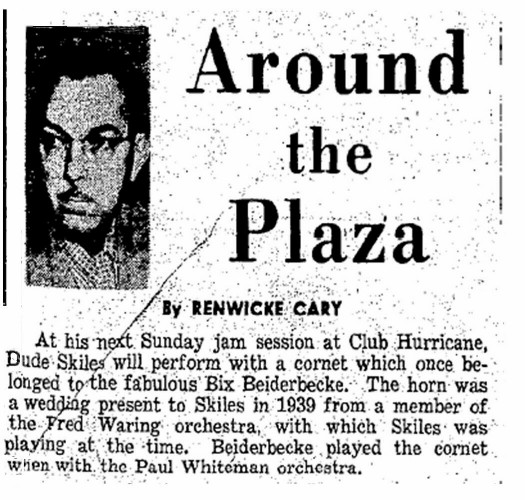 According to this article, Dude Skiles received in 1939, as a wedding present from a member of the Fred Waring band, a cornet that Bix played while a member of the Paul Whiteman orchestra.
Rich was trying to find out whether Skiles had one of many trumpets Bix got for free from manufacturers and then gave away, or if it was the missing Conn Victor horn, but then he got too sick to continue tracking the story. Rich thought maybe it wasn't a member of the Fred Waring orchestra but Tommy Dorsey who gave Skiles the horn, but never got so far as to confirm make/model of the horn.
I did a little research on Dude Skiles. I found lots of information in San Antonio newspapers. Unfortunately, I did not get anywhere with the question of the corner.

Robert "Dude" Skiles was born in Joplin, MO on Oct 27, 1915 and died in San Antonio, TX on Dec 15, 1993.
1930 US Census San Antonio, Texas
All newspapers clips from the San Antonio Light

April 8, 1936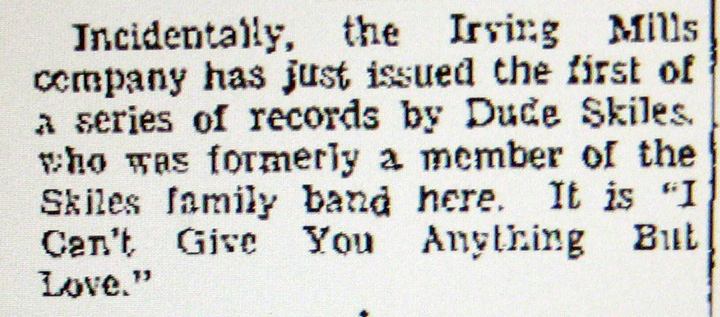 Jun 29, 1936 (there is an error: the guitarist is Jack Skiles)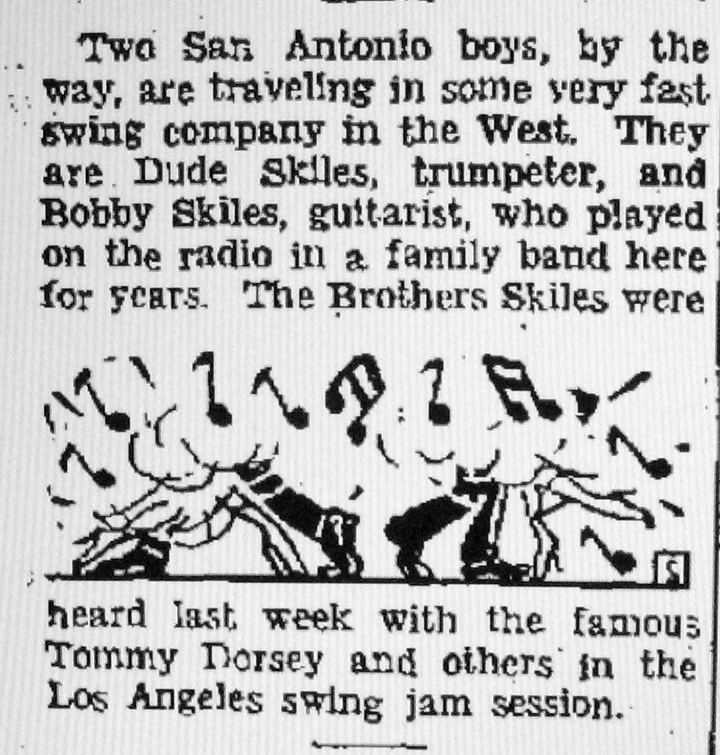 Aug 1937, Dude signs up with Fred Waring
Dec 22, 1937

Dec 1939 Signs up with Johnny Green
Jan 13, 1941


Oct 1941 purchases Shadowland Club. See Norte 1

June 1942 Enlists
June 1946 returns from service; owns a record shop (as well as Shadowland Club)
1948 sells Shadow land Club
1949 appointed public relations director for Park Commissioner.
Jan 22, 1950


Oct 4, 1951 public relations postion is abolished
Nov 1951 appointed manager for Municipal Auditorium. See Note 2.

Interview of Dude Skiles
http://ecommons.txstate.edu/cgi/viewcontent.cgi?article=1063&context=jtmh
Photo of Dude Skiles with Jack Teagarden and Chuck Reiley at a San Antonio Jazz Society meeting. From
Louisiana
State
Museum
Note 1.




Note 2. Paul Whiteman with Bix was in San Antonio, Texas on Nov 1, 1928. The orchestra gave a concert at the Municipal Auditorium. It was built in 1926.







New Information About the Cornet.

(Uploaded Aug 20, 2009)

Having read the interview of Dude Skiles by Sterlin Holmesly, it occurred to me to get in touch with Sterlin and ask him if he had discussed the cornet given to Dude for a wedding present in 1939. I could not find an email address for Sterlin. I knew that Dude Skiles and Sterlin Holmesly were from San Antonio, and therefore I thought of contacting Don Mopsick, bassist with the Jim Cullum Jazz Band [The Landing, Riverwalk Jazz], and I asked him if he had an email address or telephone number for Sterlin. Don responded promptly and provided an address for Sterlin. I then contacted Sterlin and asked him if the subject of the Bix cornet had been brought up during his conversations with Dude Skiles, and if so, did he have any information about the cornet, model, year, etc. Sterlin kindly responded and informed me that "My talk with Dude was in the early '80s, one of many jazz oral histories I did back then. Dude has long since died. The Bix cornet chronicle went something like this: Dude gave the horn to Jim Cullum Jr., leader of the Jim Cullum Jazz Band. Cullum is a cornetist and a devotee of Bix's. I understand that the Bix horn was stolen, along with other valuable instruments. " Sterlin gave me a contact for Jim Cullum who generously provided the following account.

Dude Skiles gave a cornet to Jim Cullum in the early 1970s, probably 1972. This is the cornet that was given to Dude as a wedding present in 1939 by a member of the Fred Waring band, name forgotten. Dude told Jim that the musician who gave him the cornet as a wedding present had won it from Bix in a poker or crap game. Jim tells me that the cornet is a brass Holton cornet from the late 1920s, that it showed no signs of wear, that it did not play well, and that it looked to him like the Holton cornet in the following ad for Holton instruments. This information is consistent with that in the Feb 3, 1955 newspaper article reproduced at the top of this page, "

Bix played the cornet when with the Paul Whiteman orchestra. " Whiteman endorsed Holton instruments for his band in the Spring of 1928.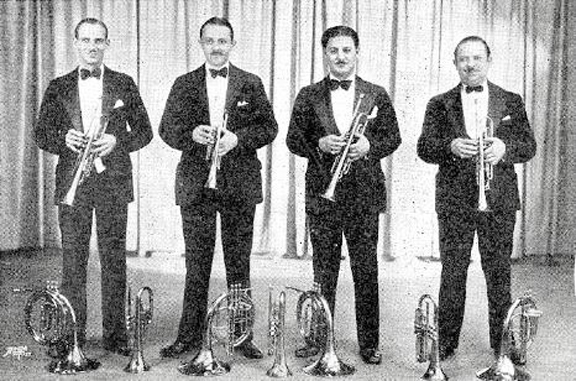 Promotional Photo for Holton Instruments. Left to right, Eddie Pinder, Bix Beiderbecke, Charlie Margulis, Harry Goldfield

In 1962, Jim Cullum father (clarinetist) and son (cornetist) founded a partnership and launched the Happy Jazz Band. The following year they launched "The Landing" in what is currently "Joe's Crab Shack." The band played taditional jazz, and "The Landing" was an instant success. Among musicians who visited the Cullums in "The Landing" were Benny Goodman, Bobby Hackett, Joe Venuti, and Earl Hines. In 1982, "The Landing" moved to the River Walk level of the Hyatt Regency Hotel. In the process of moving, Jim placed several instruments, including the Holton cornet, in a strong box which he stored temporarily in a Country/Western/Blue Grass place that had just opened in San Antonio. A few months later, Jim went to retrieve the box and, to his dismay, all the instruments had been stolen! Note 1.

Jim does not know first hand if the cornet given to him by Dude Skiles is indeed the Holton that belonged to Bix. Jim tells me that stories about Bix have a tendency to be embellished, and eventualy may have little basis on reality. However, Jim tells me that Dude Skiles was quite adamant in his belief that the cornet given to him as a wedding present had been won by a Waring musician in a game with Bix.



Acknowledgments.

I am extremely grateful to Jim Cullum for spending time talking to me, and for his fascinating account of the Dude Skiles/Bix cornet story. I also want to thank Sterlin Holmesly for giving me information about the cornet, and for pointing me in the right direction. Last, but not least, my thanks to Don Mopsick for helping me with contacts.

Note 1. Another of the lost instruments was a Getzen cornet that belonged to Bobby Hackett.

From http://www.landing.com/stories/lamps_and_cornets.htm

"I would probably have been happy to play the French Besson for the rest of my days had not the Landing audience one night contained Sandy Sandberg, sales manager for the newly organized Getzen Co. of Elkhorn, Wisconsin. Sandy pushed a new Getzen cornet into my hand and bingo, I had a new lover. The Getzen's design was influenced by a rare 1950s Conn cornet and by the French Besson, and I always thought the designer had been both smart and lucky. Getzen made up a large bore model just for me and I was a Getzen "artist" and advocate for 25 years.
In 1968 Bobby Hackett arrived in San Antonio to record with our band [N.B. Audiophile Album

Goose Pimples

, 1967], and as he unpacked, out came a shiny Getzen cornet. Hackett had been seduced just as I had. But Hackett was fickle about cornets, and the next time I saw him he had a Benge cornet and then an Olds that had belonged to Red Nichols."

Bobby gave his Getzen cornet to Jim. Sadly, that cornet, too, was lost.