Report of 2004 Bix Festival.


The 31st Annual Bix Beiderbecke Memorial Jazz Festival took place in Davenport, Iowa on July 22-25, 2004. This was the 33rd edition of the festival and was entitled "Bix 101: class of jazz." The festival followed the pattern of the previous ones. There were eleven bands and four venues. In addition, there was the concert at Bix's grave, the Liturgy, and the Bix Historic Trolley Tour. This year I will report only very briefly on the Festival itself. I will tell you about a couple of new Bix exhibits, the interview of John C. Korn, and the "Afterglow" event.

German American Heritage Center
It is located at 712 West Second Street in Davenport, Iowa, at the foot of the Centennial Bridge, in a three-story building, built in 1863, which served as a hotel or "Gast Haus." German immigrants who came to settle in the Davenport area and pioneers who stopped in Davenport on their way further west stayed in this hotel. It was first known as the Germania Haus and later as the Miller Hotel. The center was founded in 1994 and is dedicated to preserving the German Heritage in the Quad City region.

I spent a couple of hours on July 23, 2004 visiting the center, looking at the exhibits, and talking to Amy Driskill, the Executive Director of the Center. Ms. Driskill was the most gracious hostess and provided a lot of information about the center. The exhibit which attracted my attention was, of course, the Bix exhibit. It consists of text and photos. There is a Bix timeline. There are photographs of Bix's family, of Bix, and of some of the bands he played with. Here is a photo of the wall with the information and photos. The recently discovered high school photo is included in the exhibit.
There is a concise account of Bix's life entitled "Truth, Myth & Legend." It is well written and accurate. Through the courtesy of Ms. Driskill, the complete text follows.


Leon Bix Beiderbecke: Truth, Myth & Legend

Leon Bix Beiderbecke was born in Davenport, Iowa on March 10, 1903 and died in New York City on August 6, 1931 at the age of twenty-eight. By the time of his death, Bix was a well-known musician and had played in many of the most popular groups of his day. In the years since his death, music enthusiasts continue to listen to his numerous recordings and innovative style. Through these works, Bix has become an international jazz legend. Followers try to emulate his sound, books continue to be written about him and movies have been produced that tell his story both in fact and fiction. Put Bix's name into an Internet search engine and you will find any number of sites dedicated to the study of this young man and his music.

Soon after Bix died, myths were created about his life and his music. Topics would range from his birth name, to places he had performed, even where he died. Bix certainly is not the only late jazz performer to have myths take over from the truth, but Bix's myths have made the truth of his life and career harder to unearth in many respects. So common a trend, the act of enhancing a performer's life is called "Bixing" by many researchers and music enthusiasts. Most of these myths are created simply to enhance a performer's career and life. It has been said though, that truth is many times more intriguing and poignant then myths could ever be.

This exhibit examines the life of a young Leon Bix Beiderbecke. A musically gifted young man, reared in a large, established German-American family during the early part of the twentieth century in Davenport, Iowa. As much as possible, photographs and articles from the time period are used to help explore Bix's life in Davenport and to find truth in the legend of the great Bix Beiderbecke.

German American Heritage Center - Davenport, Iowa



Interview of John C. Korn and His Son John C. Korn, Jr. July 24, 2004.


John C. Korn is the son of Vera Korn, nee Vera Cox, who was Bix's girl friend in high school. John Jr., the son of John C., sent me an email message on July 22, 2004 indicating his father's willingness to be interviewed. I responded immediately, and we set up a meeting for July 24, 2004 at 3 pm in the Davenport Holiday Inn. Here is some of the information John and John Jr. kindly provided. In spite of the somewhat difficult circumstances -son and grandson of Vera talking about her to a perfect stranger- the meeting went very smoothly: John and John Jr. are straightforward, friendly individuals and they responded openly and directly to all my questions. I am grateful to them for their willingness to meet with me and talk about Vera and Bix.

Although Vera was over a year younger than Bix (she was born on August 27, 1904), Vera and Bix were classmates beginning in 1912 in elementary shcool, and continuing through high school. We know that Bix contracted scarlet fever and missed school most of the 1911-1912
school year. Thus, when he enrolled in third grade (for the second time; the first time was on September 4, 1911) on September 2, 1912, Vera was in the same class. Six years later, Vera and Bix are seen in the the photo of the Tyler School eigth grade class.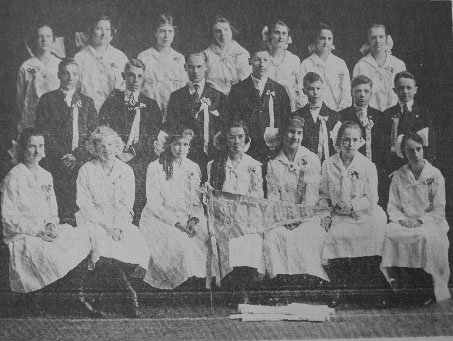 Eigth Grade class, Tyler School, Davenport, Iowa, school year 1918-1919
Vera Cox is third from left in front row. Bix is first from right in second row.
Vera lived in her grandmother's house on Iowa Street, a few blocks from Grand Avenue. Bix would come and visit Vera, but instead of talking to her, he played the piano in the house. According to Vera, Bix had a peculiar way of playing piano: his fingers were stiff. He spent hours playing chords, engrossed in his music. Often, Bix's mother would call and ask if Bix was there. If he was, she would ask that he be sent home because dinner was ready. In a similar vein, whenever Bix would take Vera on a date, while he was very much smitten with her, in a musical situation, he would gravitate towards his real true love, music.
John related an amusing anecdote about Bix. In 1930, when Vera was visiting her parents in Davenport with her six-month old son John, Bix went to visit her. He knew that Vera had a son, and, as a courtesy, Bix brought a sac of peanuts (!) for little John. We know of Bix's fondness for peanuts, but obviously Bix had not been around babies and had little notion of what a six-month old baby could eat.
Other items of great interest related by John and John, Jr. follow.
Vera stated unequivocally that Bix's middle name was Bismark, not Bix. In fact, she was incensed when people said that the middle name was Bix.
Gene Gast is in possession of Bix's second cornet. Apparently, Bix destroyed his first cornet in a fit of anger. (Rich Johnson is investigating this.)
Vera remembered very clearly, during a visit to the high school with John Jr., which was her locker and which was Bix's.
Vera was very fond of Bix. The way she told stories about Bix, she seemed to have some remorses for the way Bix life ended.
AfterGlow


It has been the tradition to end the Bix Festival with the "Afterglow." This event takes place on Sunday evening in the Holiday Inn. There were two bands playing, but I will restrict my attention to the first, Josh Duffee and His Orchestra.

The orchestra was in the auditorium at 7 pm and started with a rehearsal of some Bix tunes -"I'm Coming Virginia," "Since My Best Gal Turned Me Down," (a new arrangement by Frank van Nus in the style of Bill Challis), and "I'll Be A Friend With Pleasure." Around 7:30 the formal portion of the event began. The best way I can describe it is as a "Historical Concert." Josh gave a chronological/musical account of the Jean Goldkette Orchestra. Before each number the orchestra played, Josh provided an explanation of the number and its context in terms of the musical evolution of the Goldkette orchestra. It was a lesson in history and in music. The Josh Duffee Orchestra gets better and better every year. Now it is a true orchestra, tight, well- rehearsed, professional. The orchestra provides a terrific emulation of the sound of the Goldkette band. Although the musicians in the band (four reeds, three trumpets, two trombones, string bass, drums, xylophone, violin, guitar/banjo and flute) read their parts, they do so in such a manner that the sound they create sounds fresh, spontaneous, new. The orchestra started with "In the Evening," the first recording of the Goldkette orchestra in 1924. They continued, in an illustration as to how the orchestra evolved, with "It's the Blues," "Dinah," "Blue Room," (a number played but not recorded by Goldkette). The orchestra went on with a series of numbers recorded by the Goldkette Orchesta with Bix: "Idolizing,", "I'm Looking Over A Four Leaf Clover," "Proud of a Baby Like You," Hoosier Sweetheart," Stampede," "Tiger Rag" (the last two tunes were played but nor recorded by Goldkette), "In My Merry Oldsmobile." Thje orchestra ended with a rousing version of "My Pretty Girl Stomp" and the Bix-Goldkette classic, "Clementine." The audience was highly appreciaive of the great performance by this band of young people. playing -superbly and expertly- very old music.

Before the second band came in, the Goldkette Foundation Award was presented. For the last several years, Alann Krivor, grandnephew of Jean Goldkette and chairman of the Godlkette Foundation, has honored individuals who have contributed to the preservation and dissemination of the Jean Goldkette musical legacy. The Goldkette Foundation Award consists of a framed baton and the reading during the "AfterGlow" of a citation describing the contribution of the awardee. The award was presented -in absentia- to Hans Eekhoff, Dutch Bixophile, record collector, and CD producer and sound engineer for Timeless. The award was highly deserved in view of Hans' generous support of the Bix Society and his vigorous and effective activities in connection with the restoration and world premiere in Davenport on June 6, 2004 of the Jean Goldkette On Tour 1926 film in custody of the Jazz Museum in New Orleans. Josh Duffee read the citation and Albert Haim accepted the award on behalf of Hans Eekhoff. The citation reads as follows.

"To all of you………………the audience, contributors, volunteers, and musicians

It is with deep regret that Mali and I are unable to attend this year's Bix. We always enjoy the company of all of you, who so unselfishly, attend and make the Bix such a superb musical event.

Mali and I together with the Goldkette Foundation thank all of you for the support you have given music in the Jean Goldkette tradition. I know that if Jean were still with us, he would want to thank each and everyone of you personally for keeping his dream alive through Bix Beiderbecke and this Festival.

In spirit, I thank you for Jean Goldkette and his Foundation.

The Jean Goldkette Baton award for 2004 should be given to all of you who have worked so hard each year to make the Bix a roaring success, and that includes each of you in the audience. Unfortunately, we must select just one. In the past the Goldkette baton has been awarded to the Bix Society, Spiegle Willcox, Trevor Rippingale and the Wolverines, the Josh Duffee Orchestra, and in 2003 - Frank Van Nus.

This year a person came to our attention who has offered considerable support to the Bix, the Society and the Goldkette tradition. His contribution has been both financial and active support of bringing forth information to the attention of everyone associated with the Bix Festival.

In 2004 the baton award for his support of music in the Jean Goldkette tradition goes to Hans Eckoff of the Netherlands. The award is not only for his financial support, but also for his rescue and reproduction of the film of the Goldkette Orchestra on tour in 1926.

I've asked Josh Duffee as the 2002 recipient to present this award to Hans tonight.

Thank you all,

Alann Krivor
Chair"

Images of the 2004 Bix Festival.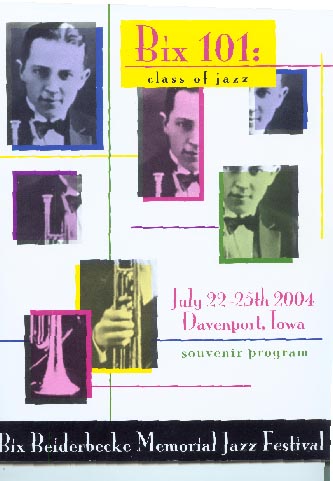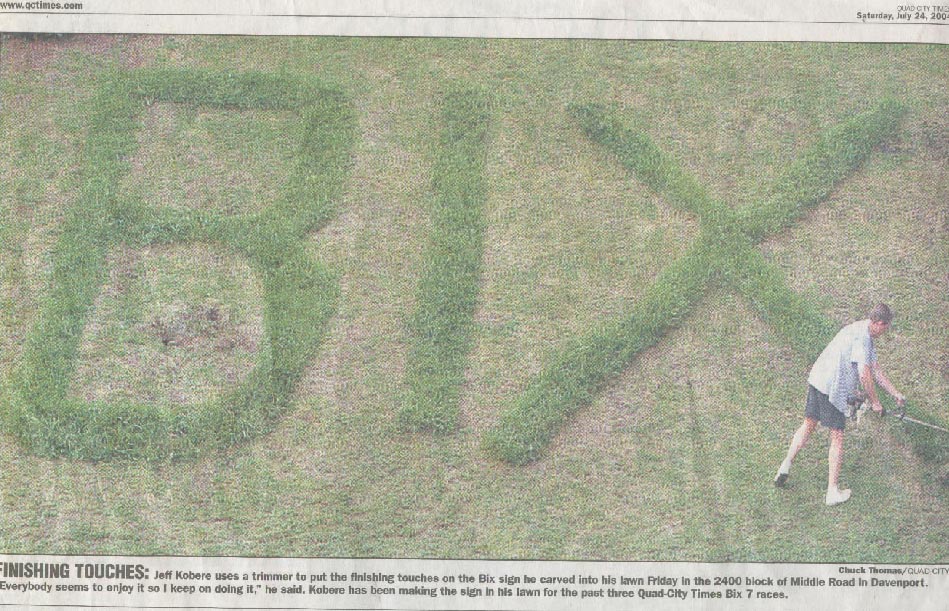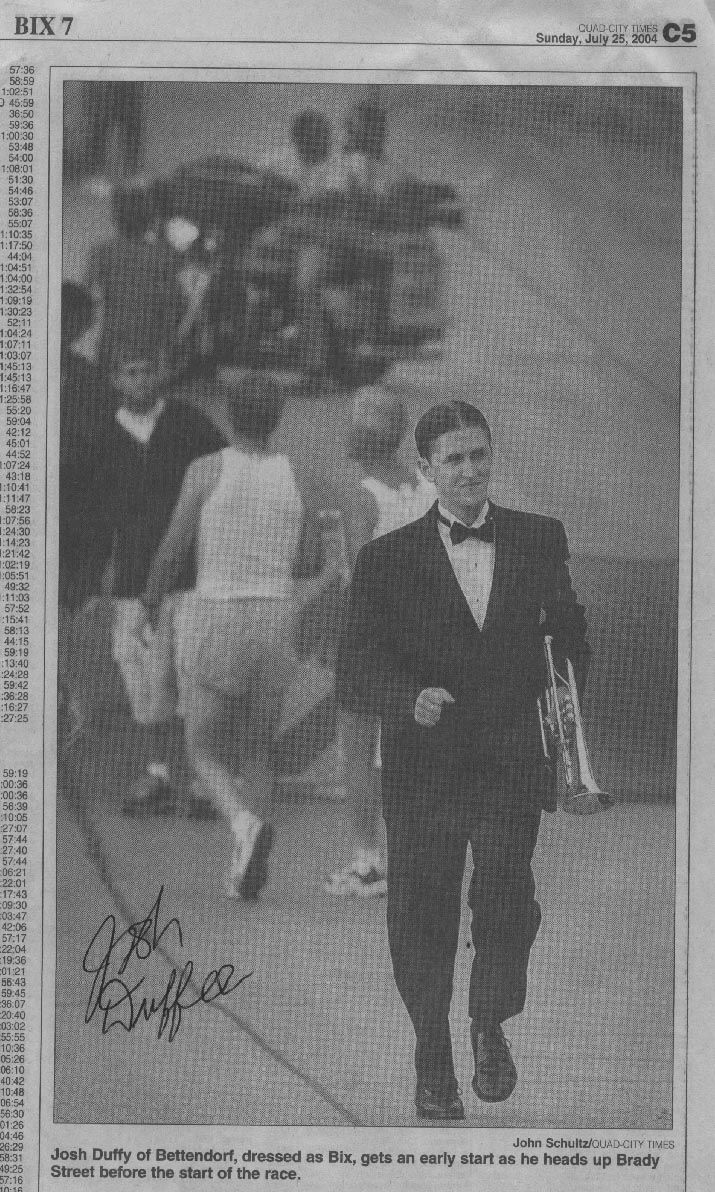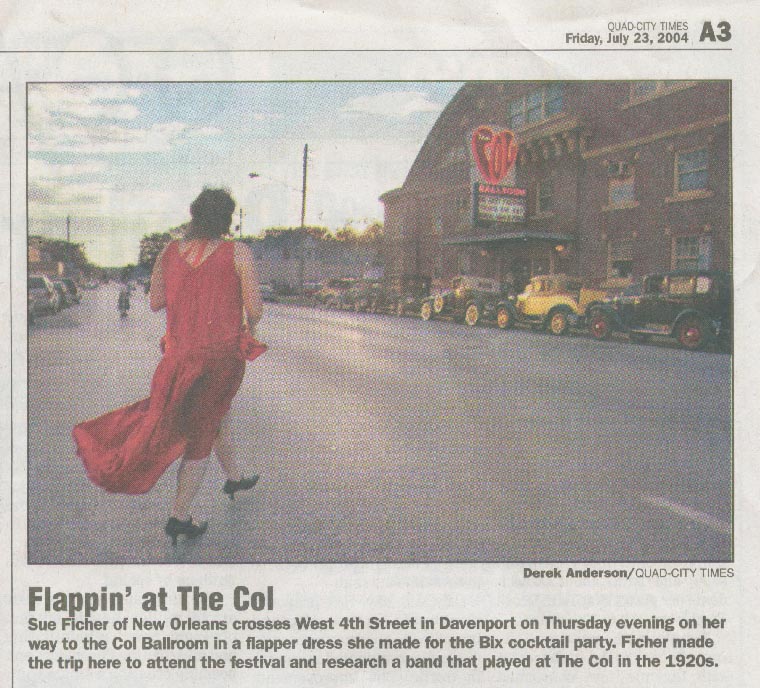 Sue's last name is misspelled: it should be Fischer